Could Global Trade Growth Push This Small-Cap Higher?
This Undervalued Freight Transportation Company (listed below) is Making Some Big Changes, and It's Poised to Surprise Investors in 2017
Despite what many believe, global trade is set to have some momentum in 2017 and one small NASDAQ company could be ready to take advantage of this shift in the marketplace. According to the World Trade Organization's latest World Trade Outlook Indicator (WTOI), there may have been some continued momentum, from the fourth quarter of 2016, into the first quarter of 2017. This indicator provides data that include automobile sales, export orders, air freight, container shipping, electronic components and agricultural materials. Therefore, this tool is a prime indication of the trends of global trade.
Here's a look at the recent WTOI reading, in late 2016: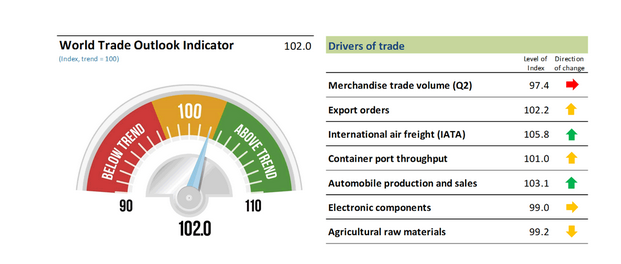 Source: WTO
In addition to this above trend growth, as indicated above, the World Trade Organization (WTO) projected that world merchandise trade growth is set to grow between 1.8% and 3.1% in 2017. This forecasted growth rate could suggests increased volume, which could be beneficial for many companies.
With the potential growth in world trade, this translates to a potential growth in the shipping industry. However, some shipping companies are overvalued, and as you all may know, you generally want to buy low and sell high.
Now, more specifically, global trade growth should benefit the deep sea freight transportation industry. According to the St. Louis Federal Reserve Bank's economic research, the producer price index in the deep sea freight transportation industry has been trending higher, as shown in the chart below.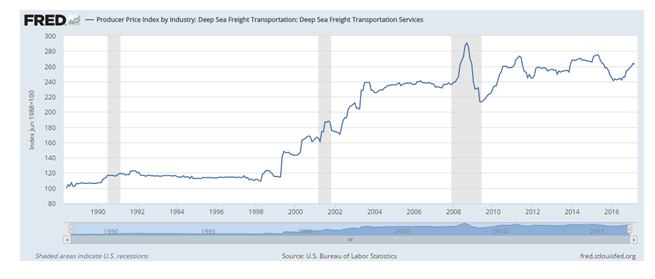 Source: FRED
This means the deep sea freight transportation industry has been experiencing higher price levels, which could mean a potential increase in revenues, if the trend continues. Not only that, the Baltic Dry Index, which takes into account rates for ships carrying dry bulk commodities, recently hit over more than a two-year high, indicating there could be increasing demand for transporting major raw materials by sea.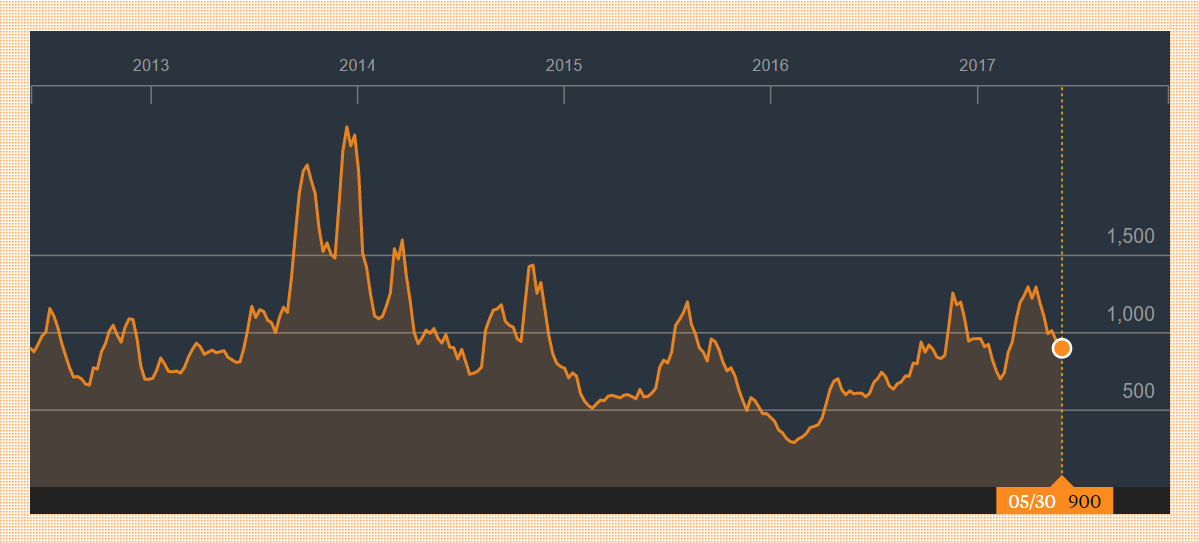 Source: Bloomberg
The Baltic Dry Index has been trending higher, up as much as 50% at its highs in the past 12 months, providing an indication that deep sea transportation companies engaged in dry bulk shipping could potentially ride off the coattails of the potential increase in demand for these services.
With all the industry and world trend set to potentially grow in 2017, these developments have uncovered some interesting opportunities in some publicly-trade companies in the deep sea freight transportation industry. However, there's one that stock that stands out, which could have an impressive upside potential. Let's move onto an in-depth look at Seanergy Maritime Holdings Corp. (NASDAQ:SHIP).

Seanergy Maritime Holdings (NASDAQ:SHIP) is an international deep sea transportation shipping company primarily focused on providing marine drybulk transportation services. That in mind, SHIP owns and operates dry bulk vessels to do so. The company owns and operates a modern fleet of ten dry bulk carriers, which consists of eight Capesizes and two Supramaxes, and its fleet has a combined cargo-carrying capacity of over 1.5M dwt. The company recently acquired another Capesize fleet, which upon its delivery, would increase its modern fleet to 11 drybulk carriers. As we've already stated earlier, the potential increase in demand coupled with the projected growth rate of global trade means Seanergy is poised to grow its revenues and earnings, potentially translating to an increase in its stock price.
Seanergy's Fleet is Strong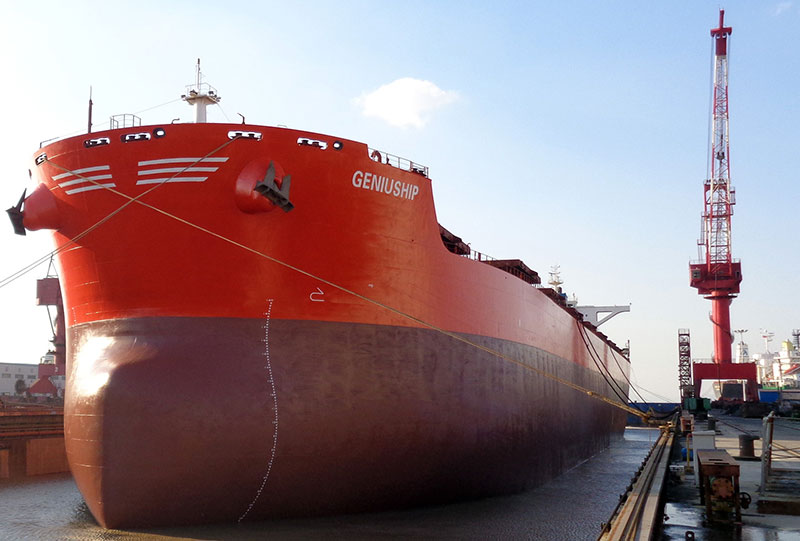 Source: Company's Website
SHIP's current eleven vessel fleet is strategically placed in various parts of the world, such as Africa, South America, Asia and the middle east. With that in mind, these placements are focused around some producers of major raw materials which means NASDAQ:SHIP is poised to take advantage of the demand for drybulk sea transportation. Among the company's largest ships, recently acquired Capesize vessel to be renamed Partnership, which is expected to be delivered in June 2017. The Partnership has a capacity of 179K dwt. With the potential increase in demand for major raw materials and SHIP's placement of its shipping vessels, its revenues could continue to rise.
According to SHIP Chief Executive Officer Stamatis Tsantanis, "We are very pleased to announce another acquisition of a modern Capesize vessel. This high quality Capesize vessel marks our first acquisition of 2017 and follows the successful acquisition and delivery of two sistership Capesizes in the fourth quarter of 2016. In addition, this purchase allows us to expand further our sizable position in the Capesize segment. We strongly believe that the Capesize segment represents the best fundamentals in the dry bulk industry and we will continue to actively pursue accretive acquisition opportunities of quality Capesize vessels with an aim of increasing value for our shareholders."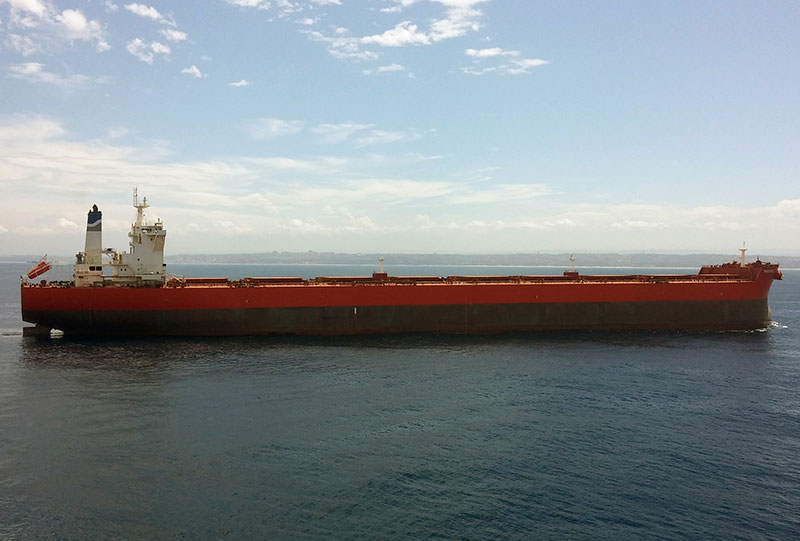 Source: Company's Website
This acquisition of a high-quality Capesize vessel allows the company to expand and bolster its position in the Capesize drybulk transportation segment. As the company increases its vessel size, it could take on more business from producers of major raw materials, translating into higher potential sales and profits. That said, if market participants catch wind of this, the market could price this in, potentially leading to a higher stock price. Thereafter, if its financial statements continue to show growth, SHIP could run higher.
Seanergy Could Increase its Equity, and Strengthen Balance Sheet
In March 2017, Seanergy announced it entered into a definitive agreement with one of its senior lenders in order to repay a credit facility, early. Consequently, SHIP expects this early repayment to result into a potential material gain and an increase in equity. Specifically, this gain is projected to be over $11M, representing around 29% of the outstanding facility. In turn, this transaction could drive SHIP's total equity up by over 30%, on an adjusted basis.
When speaking about this transaction Tsantanis said, "We are very pleased to announce another important transaction for the Company, which should result in significant accretion for our shareholders. Not only are we growing our fleet but we are streamlining our capital structure to be in a position to further capitalize on a strengthening dry bulk market. In the past six months Seanergy has successfully raised funds from the equity capital markets and used this capital for highly accretive and productive purposes to grow its platform and enhance shareholder value."
Moreover, the CEO showed confidence in the company and believes the recent accretive acquisitions are consistent with its business strategy. Tsantanis also noted that the company is looking into additional transactions that are expected to enhance the value to shareholders and therefore the Company's stock price.
The company looks like it could strengthen its balance sheet and income statement, potentially creating more value to SHIP stockholders.
Moving on, the company had some notable achievements during the 2016 fiscal year.
Seanergy Maritime Holdings 2016 Financial Highlights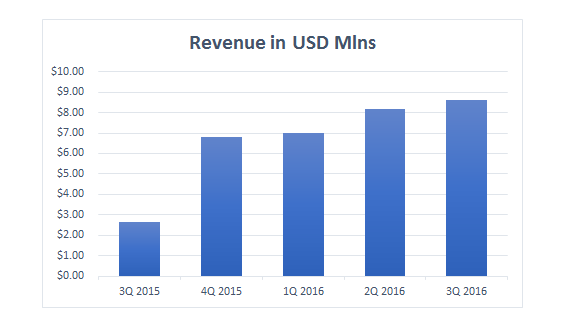 Data Provided by Morningstar
If you look at the chart above, notice how Seanergy Maritime Holdings (NASDAQ:SHIP) has been consistently growing its revenue since the third quarter of the 2015 fiscal year. That in mind, the company grew its revenue from just over $2.6M in the third quarter over 2015, to over $8.6M in the third quarter of the 2016 fiscal year.
Seanergy continued its strong growth in its income statement during the fourth quarter of 2016. SHIP generated net revenue of $10.9M during the fourth quarter of 2016, and $34.7M for the full year. Additionally, what may be more attractive to investors was its growth in its total shareholders' equity, which grew to $30.8M in 2016, up from $23.3M in 2015, or a growth rate of 32%. Not only that, but with the company's acquisition of two modern Capesize vessels in 2016, and consequently, its increase its dwt capacity by 30%. In turn, this indicates SHIP has the ability to further grow its revenues in 2017. Additionally, with its recent early repayment of a credit facility, SHIP could grow its total shareholders' equity even more in 2017.
SHIP Could Rise Soon
The potential rise in global trade and demand for major raw materials and deep sea freight transportation companies focused on drybulk shipping could move in tandem to those growth rates, which would allow companies like Seanergy Maritime Holdings (NASDAQ:SHIP) to generate higher revenues. Micro- and small-cap deep sea freight transportation stocks, such as SHIP, have large upside potential due to the these potential changes in the industry. SHIP had some developments that could potentially be indications that the company could grow its revenues and total stockholders' equity. If Seanergy continues with its business strategy, and to increase shareholder value, this stock could start moving higher.

Sincerely,
Awesome Stock Tips
Disclaimer:
We have received ten thousand dollars for the awareness of SHIP.